STUD DOGS
Multi V2 ROCKDALESTAR CHAMP E.T
_______
YOUNG MALES
C.I.S.S/V1/V2 ROCKDALESTAR CAESARSTONE
________
VP1 ZALAPA IN YOUR DREAMS
________
VP1/C.I.S.S ZALAPA IN YOUR DREAMS
________
Neuter Champions
C.I.S.S ZALAPA GUNNA SEE YA
Owned by Lisa Chin
We are very proud of Taskan and Lisa, what a great team they are making, although very young he has made his presents felt in the show-ring!.
We look forward to seeing how he matures, but he has having a fantastic start. All the best Lisa and Taskan.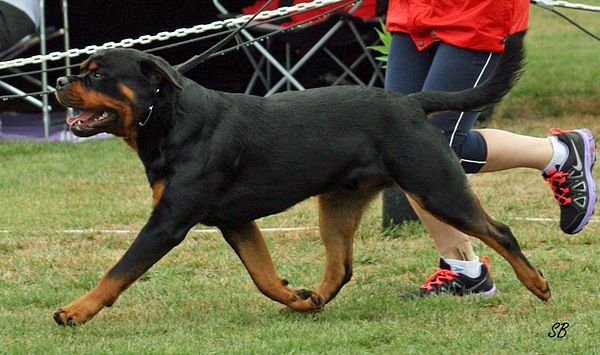 With Renee
Critiques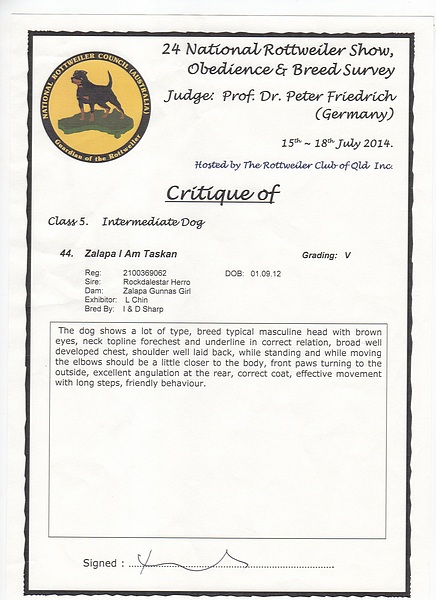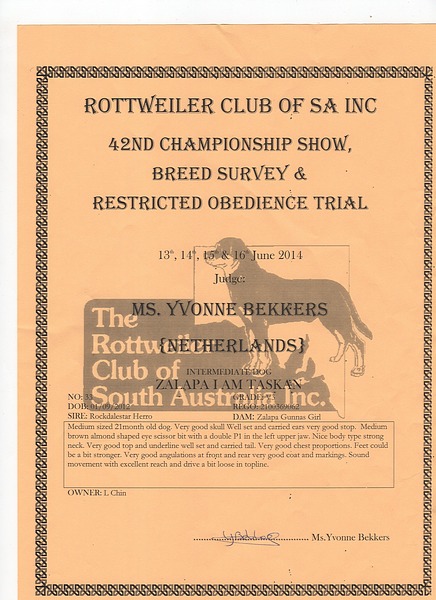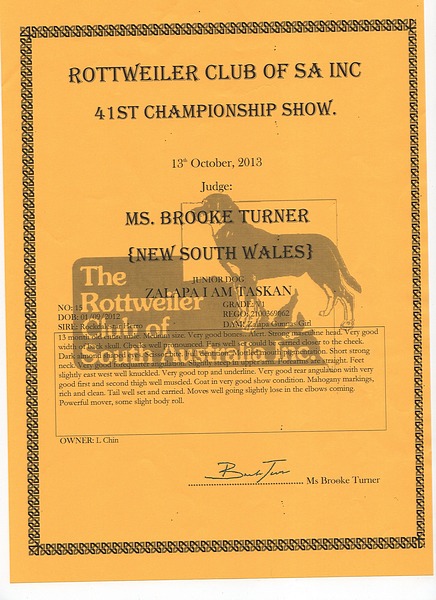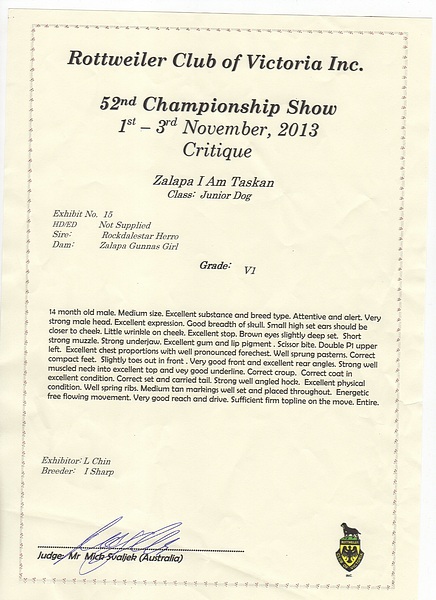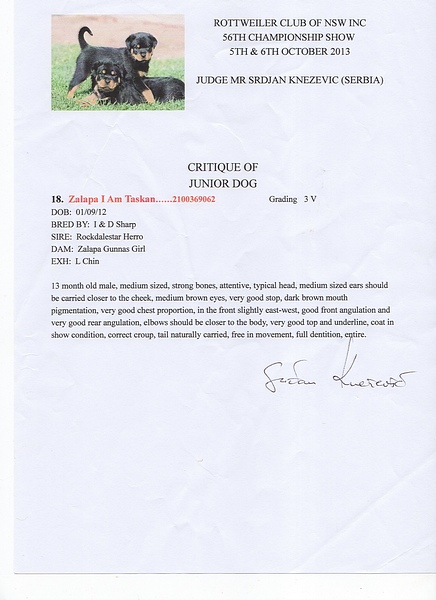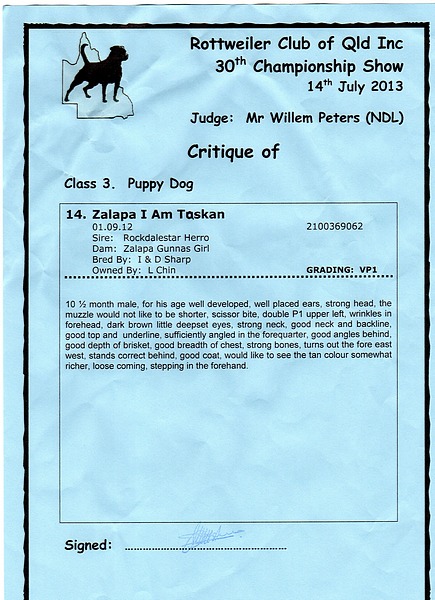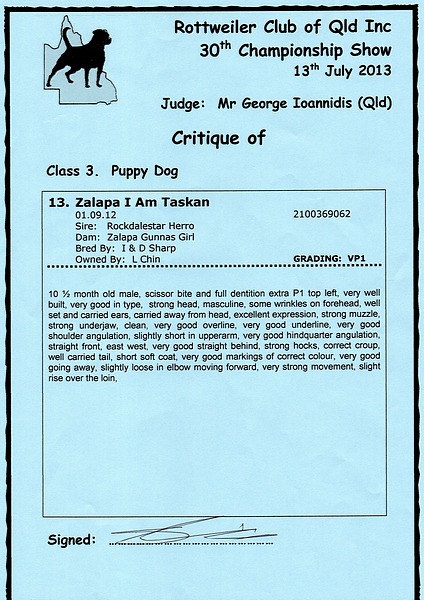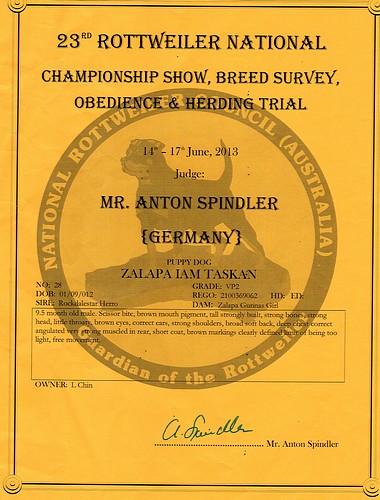 47th Championship Show 30th - 31st March 2013
Judge: ADRK Herr Siegmund Trebschuh (Germany)
VP1 -OPPOSITE MINOR IN SHOW
6.5 month Excellent type, strong bones social, typey head with correct ears. Brown eyes very good stop strong muzzle. correct mouth pigment,
very good neckline. well formed chest correct forequarters tight feet excellent top and underline correctly placed and angulated rear correct
coat with colour and size of markings also correct Sabre tail, outstanding movement correct scissor bite.
L: Zalapa I Am Taskan - VP1 Minor puppy Dog R: Rakaaz Quintessential - VP1 Minor Puppy In Show (Minor In Show)
Well done John and Susie beautiful bitch..
_________________
Puppy of Breed - Sydney Royal 2013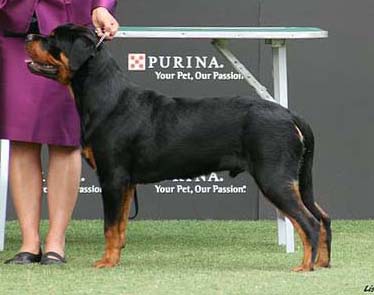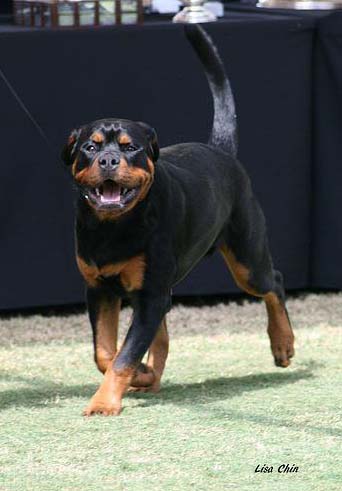 Thank you Donna Borg for handling Taskan
___________________
Rottweiler Club of NSW Inc. Championship Show March 2013
Judge:- NSW Kate Pinches

VP1 -OPPOSITE MINOR IN SHOW

6.5 month old male excellent breed type and proportion already showing broad skull and masculine head
, head proportions correct in profile, slight bump on nose, eye is medium round, good breadth of muzzle good zygomatic arch, detention
correct, mouth pigment is medium pink should be darker, very clean neck, dry great lay-back of shoulder with short steep upper arm for-chest
coming from sternum top and underline very good very good tail set, adequate hind angulation, feet reasonable tight, very nice puppy on the,
moves well and steady, balanced.

____________________

Ian, me and Taskan at his first show wining Baby In Group

Pedigree

Multi BISS/BISS Nats09

Rockdalestar Herro

17 V1 ratings in Europe

N.R.C.A/ BISS Ch Wenno of Nicolas Lion (IPO1) (imp Croatia)

Int ch, World winner 2000 Bronko Od Dragicvica
World re-known Gil Crni Lotos
Lola
Herta Ma-Ub HD-
Morro Vom Hause Marker HD/Elb-
Zamba Ma-Ub
Top SIEGREN NSW point score 2004 Ch/Multi V1/ Res Bitch Specialty and In Show winner

Rockdalestar Mimi (Mishka)

Rockdalestar King Macedon (A.I)
World re-known Gil Crni Lotos
Aust Ch Rockdalestar Attraction
Rockdalestar Lady Eva
Aust Ch/BIS Rockdalestar Prince
Aust Ch Multi V1 Rockdalestar Princess
Zalapa Gunnas Girl
Multi V2

Rockdalestar Champ E.T

Multi V Rated/Ch Granhaus Der Jigs Up
Matt Jailbird Mra-Zus (imp USA)
V1 Granhaus Feisty N Flamboyant (IMP USA)
Aust Ch Rockdalestar Bessy
Rockdalestar Rudi (A.I)
Aust. Ch Benahein Hot Obsession
V2 Rockdalestar Inka
17 V1 ratings in Europe

N.R.C.A/ BISS Ch Wenno of Nicolas Lion (IPO1) (imp Croatia)

nt ch, World winner 2000 Bronko Od Dragicvica
Herta Ma-Ub HD-
Rockdalestar Lady Eva
Aust Ch/BIS Rockdalestar Prince
Aust Ch Multi V1 Rockdalestar Princess