Consistently on the pegs Inka has a strong temperament, loves the show-ring and is producing the goods for us!!. We look forward to having her back in the ring after her two litters. Inka is a full brother to Multi B.I.S.S Rockdalestar Herro owned/bred by Jimmy and Vera Gestakovski.
Both Inka's parents, Mishka and Wenno have proven themselves in the Specialty ring being RU/B.I.S.S/ Multi V1 rated/ Ch Rockdalestar Mimi and N.R.C.A/Multi B.I.S.S/Ch Wenno of Nicholas Lion Multi Top Stud Dog of Show. Mishka being SIEGREN in 2004 on the NSW Rottweiler Club Point score system.

Combination breed type and temperaments in these two top quality dogs should provide us with exceptional quality. Inka is producing on as her pedigree suggested it should.

After a break for maternal duties we were thrilled with Inka's return to the specialty ring in a strong class she achieved V5,V3 and V3 at the Rottweiler Club of Victoria, Rottweiler Club of NSW Inc and NDRC of W.A Inc (last 2 shows April 2011)

_______________________
Critiques

NORTHERN DISTRICTS ROTTWEILER CLUB OF NSW Inc.
23-24 April 2011 Judge:- Mrs M Thomas (NSW)
Australian Bred Bitch Bitch Grade:- V3
4 years, scissor bite and full dentition. Excellent mouth pigment. Excellent type. Correctly balanced excellent head piece. Alert, calm and confident. Muscular neck into correct forequarters. Maximum body depth to leg length. Good strength of chest. Strong straight bones. Well ribbed back short strong loin. Excellent hind quarters. Correct tail set. Correct coat, markings a little large. Dog show in optimum condition. Free ground covering movement with good reach and drive.
____________
ROTTWEILER CLUB OF NSW Inc
15-17 April 2011 Judge:- Herr Dieter Hoffman (Germany)
Austrlaian bred Bitch Grade:- V3
4 years old. Medium size good boning. Calm and manageable. Very good head shaped. Medium sized ears. Dark brown eyes. Dark pigmentation mouth. Somewhat throaty. Good broad chest. Good top line. Forequarters slightly turned out. Correct hindquarters. Correct topcoat with brown markings. Natural gait.
_____________
ROTTWEILER CLUB OF VICTORIA Inc.
25-27th February 2011 Judge:- Mr Mike Jackman (Canada)
Open bitch Grade :- V5
Three and a half years. Scissor bite, full dentition. Dark mouth pigment with pink in corners. brown eyes. Small ears should be held closer to face. Brown clearly defined markings. Good stop. Very good neck and topline. Very good front and rear angulation. Good bones. Strong coat. Excellent movement.
____________
20th ROTTWEILER NATIONAL
hosted by Northern Districts Rottweiler Club
Judge:- Herr Paul Dieter-Viehoff (Gmy)
Int Bitch Graded SG6
Medium size, very well set up. Strong bones. Clam and friendly with brown eyes. Small ears, should lay better to the head. Predominantly dark mouth pigmentation. Short neck. Straight front. Correct front and rear angulation. Straight back. Straight croup. Very good chest proportions. Correct coat. brown markings well defined. Very good movement. Straight tail. Scissor bite.

_____________________
Rottweiler Club of NSW Inc. NATIONAL April 2009
Judge:- Herr Jurgan Wulff (Gmy)
Graded:- V6 (class of 34)
________________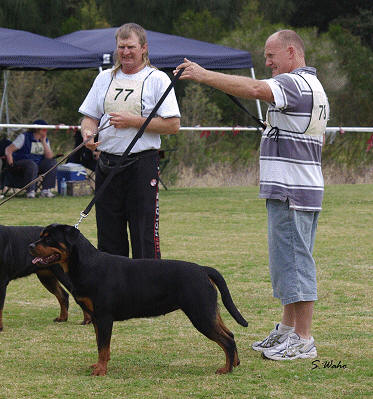 Northern Districts Rottweiler Club of NSW
13/14th September 2008 Judge:- Mrs Ilona Onstenk-Sehenk (Netherlands)
15 month old female, very feminine good harmony length to height, nice head with eyes and expression, excellent ears, good length of muzzle and width, good legs and feet, nice topline and underline, angulations are in harmony, nice dark tan, excellent temperament, moves well, a little loose in front.

________________
Northern Districts Rottweiler Club of NSW
21-23rd March 2008 Judge:- Mr. Lex Quartel (Netherlands)
Grade VP1
9 month old female, good type, little bit stretched, good shoulder and back and correct bottom line, well chested with good forechest, correct well formed female head, well set ears could be carried closer to the head, brown eyes, complete scissor bite, medium size ears, good angulations in front and rear, correct bone, short double coat, well carried tail, well defined and medium brown markings, correct movement with a good reach.

___________________________
45th Rottweiler Club of NSW Inc.
15-16th/7/03/08 Judge:- Mrs Yvonne Van Der Horst (NT)
Graded:- VP1 Puppy Bitch
9 months, good size and substance. Good bone strength, good expression. Good coat, good colouring. Feminine head. Ears set a little high and could lie closer to skull. Medium brown almond eye. Very good neck, good front and rear angulation. Good topline, good croup, very good set of tail. Front feet could be a little tighter. Correct scissor bite. Very good movement.
___________________________
36th Northern Districts Rottweiler Club of NSW
15/16th September 2007 Judge:- Mr. M Jackman (Canada)
Grade VP2
Three and half months. Scissor bite. Medium brown eyes. Medium correctly carried ears. Medium to dark mouth pigment. medium brown clearly defined markings. Very good front and rear angulation. Very good neck and topline. Excellent coat. Medium bone. Excellent front and rear drive.

__________________________

D.O.B 07/06/07
N.R.C.A /Ch/Multi RU BISS

Wenno of Nicolas Lion (imp Cro)

Multi Ru BISS /V1/Aust

Ch Rockdalestar Mimi
To Wenno page in Australia owned by Raakaz Rottweiler Melbourne
17 V1 ratings in Europe

NRCA/Aust Ch Wenno of Nicolas Lion (IPO1) (imp Croatia)

Int ch, World winner 2000

Bronko Od Dragicvica

World re-known Gil Crni Lotos
Lola
Herta Ma-Ub HD-
Morro Vom Hause Marker HD/Elb-
Zamba Ma-Ub
Top SIEGREN NSW point score 2004 Ch/Multi V1/Res Bitch Specialty and In Show winner

Rockdalestar Mimi (Mishka)

Rockdalestar King Macedon (A.I)
World re-known Gil Crni Lotos
Aust Ch Rockdalestar Attraction
Rockdalestar Lady Eva
Aust Ch/BIS Rockdalestar Prince
Aust Ch Multi V1 Rockdalestar Princess