STUD DOG
Multi V2 ROCKDALESTAR CHAMP E.T
_______
YOUNG MALES
Multi V1/C.I.S.S ZALAPA ARCHER
_________
multi Ru/Up BISS, Ch ZALAPA SON OF A GUN
________
BROOD BITCHES
________
YOUNG FEMALE
VP1/Multi C.I.S.S ZALAPA GUNNAS GIRL
This page will be updated with our litters and litters from Rockdalestar and Benahein kennels, keep checking back to see what's coming up.
Zalapa, Benahein and Rockdalestar Rottweilers follow the FCI (Fédération Cynologique Internationale)
NEW!! September 2013
We are excited to announce that Rockdalestar Caesarstone has been mated to our Rockdalestar Inka sister to NatBISS09 and multi BISS Rockdalestar Herro and top quality producing brother Rockdalestar Rizo. This should be a top quality litter litter due in November 2013.
Caesars progeny is only young and we look forward to seeing how they mature, his last mating was to Rockdalestar Boa (at Rockdalestar Kennels) and confirmed in pup.
She has been a good producer for our kennels with a son from her first litter being Multi BISS/Ru BIS, Puppy of the year (Dogzonline) NSW Seiger NSWRC pointscore 2012 Zalapa Son Of A Gun owned by Emerey Knls. Another son Multi V1/C.I.S.S Zalapa Archer. We believe this litter will have alot of promise.
Pedigree
V1 Rockdalestar Casarstone
Serb, Hung, Uch, Aust , Int Ch Felix Crni Lotos BH IPO I
Int, Hung Ch Pyton Crni Lotos
Yug Ch Ramzes Crni Lotos
Alfa Von Junipera
Dela Koa Bumbarin
Yug Ch Ramzes Crni Lotos
Beba
Rockdalestar Karla (A.I)
Serb, Cro, Slv Ch Astor Von Junipera BH IPOI
Waro Von Hause Sommer
Volga Od Dragicevica
Multi Ru/BISS Rockdalestar Zoey
Aust Ch Granhaus Der Jigsup
Rockdalestar Bessy
V2 Rockdalestar Inka
17 V1 ratings in Europe

N.R.C.A/ BISS Ch Wenno of Nicolas Lion (IPO1) (imp Croatia)

Int ch, World winner 2000 Bronko Od Dragicvica
World re-known Gil Crni Lotos
Lola
Herta Ma-Ub HD-
Morro Vom Hause Marker HD/Elb-
Zamba Ma-Ub
Top SIEGREN NSW point score 2004 Ch/Multi V1

Rockdalestar Mimi (Mishka)

Rockdalestar King Macedon (A.I)
World re-known Gil Crni Lotos
Aust Ch Rockdalestar Attraction
Rockdalestar Lady Eva
Aust Ch/BIS Rockdalestar Prince
Aust Ch Multi V1 Rockdalestar Princess
***** 3 males & 6 females ***** 1 September 2012
We at Zapala are excited to share the news that out own
Zalapa's Gunna's Girl is in whelp to Multi BISS (Nats09) Rockdalestar Herro
| | |
| --- | --- |
| | |
| Multi BISS (Nat09) Rockdalestar Herro | SG1/multi C.I.S.S Zalapa's Gunna's Girl |
Enquiries welcome
Puppies at 6 weeks old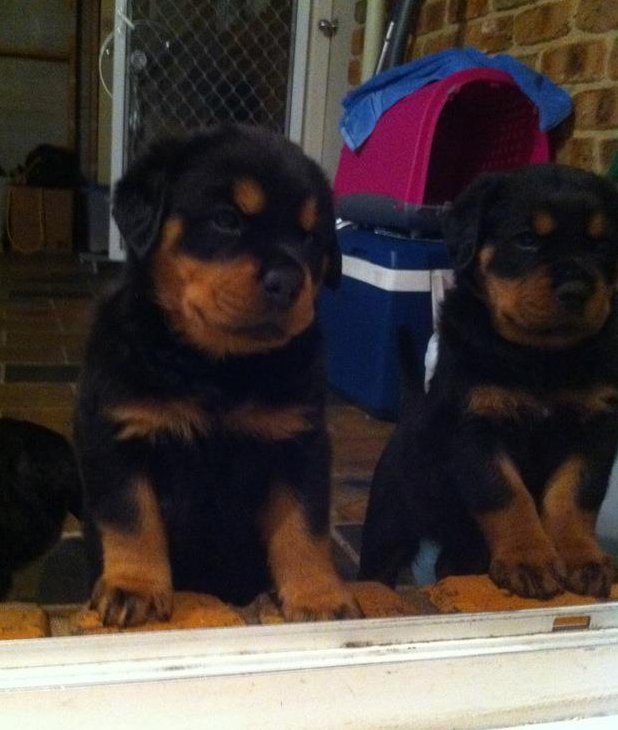 _____________________________
Past litters 2 repeats of this combination
At Zalapa Kennels our last mating's have been a combination of Gunna and Inka pictured below. It has proven and improved on what we were out to achieve, producing Multi V1/multi C.I.S.S ZALAPA ARCHER the from the second litter VP1/multi C.I.S.S ZALAPA GUNNA GUNNA GIRL which has just started their show career with BOB, multi Class In Group wins and now the ring now multi VP1/C.I.S.S/Ru Up B.I.G/SWEEPSTAKES WINNER ZALAPA SON OF A GUN we look forward to having them in the ring.

Multi V2 ROCKDALESTAR CHAMP E.T x Multi V2 ROCKDALESTAR INKA